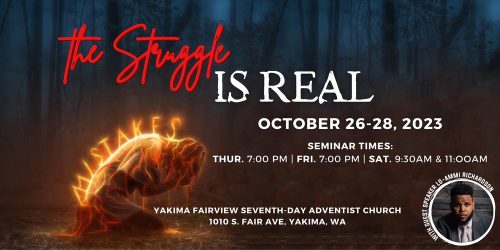 Join Us as Evangelist Lo-Ammi Richardson discusses how much God loves us and how He can assist us in breaking the cycle of sin.  Lo-Ammi Richardson reveals why we struggle and the secret to achieving the peace we have all been seeking.
In seven steps, you will discover how you and I may become victorious Christians. Yes, the struggle is Real, but Jesus Christ provides the victory!
Join us October 26-28, 2023; Thur. & Friday evenings at 7:00pm, and Saturday morning at 9:30am & 11:00am.
Fairview Seventh-day Adventist Church, 1010 S. Fair Ave, Yakima, WA (across from the north side of the fairgrounds).